GREEN BAY DECKING IS WAGING A BATTLE AGAINST THE ELEMENTS WITH OPTIMA COMPOSITE DECK–AND WINNING!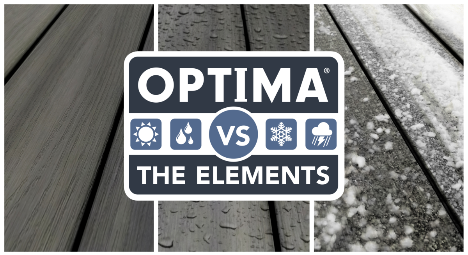 Green Bay Decking is excited to offer the most technologically advanced composite decking products in the industry: OPTIMA Composite Deck. We have leveraged scientific research to create a groundbreaking composite decking system with no wood or PVC. As a result, every aspect of the OPTIMA Composite Deck product line is specifically designed to combat everything Mother Nature can muster—from excessive moisture to severe freeze/thaw cycles.
WHY OPTIMA COMPOSITE DECK?

OPTIMA™ Deck effortlessly defies moisture and temperature extremes
OPTIMA™ Deck has proven to be up to 8 times more resistant to moisture
Patented Blend of Materials – naturally resists mold and mildew
Industry-Leading UV Inhibitors – unmatched color retention
No Wood Filler – defies moisture and prevents end swell
OPTIMA™ Deck tested at 1279 lbs Compared to 922 lbs from the top composite decking competitor
Extensive R&D – designed to take on the elements, and win!
No Delamination – state-of-the-art capping technology
Proprietary Dual-Embossed Wood Grain – combines striking beauty and superior slip-resistance. Available in five convincing colors
Made in USA with Renewable Resources
Limited Lifetime Warranty
Available in square and grooved edge
Integrated OPTIMA™ Outdoor Living products
Matching screws and hidden fasteners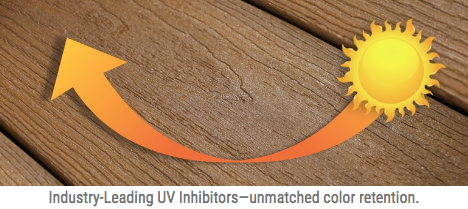 WHERE SCIENCE MEETS BEAUTY
OPTIMA Composite Deck brings science and beauty together in a new era of manufactured composite deck. Created to answer the issues presented with wood- and PVC-based composite decking materials, OPTIMA™ Deck uses science-proven ingredients to naturally defy moisture and temperature extremes—two elements that have proven to be the enemy of traditional outdoor products.
Manufactured using all-American, rapidly renewable materials, OPTIMA™Deck will not rot, as it contains no wood filler to break down with environmental exposure. And because of its patented blend of BioDac®, rice hulls, and virgin High Density Polyethylene, OPTIMA™ Deck is naturally-resistant to the effects of mold and mildew. We're so sure of our product, we're shipping it with a limited lifetime warranty.
If it's a beautiful composite deck that you're building, you will not find a more dimensionally-realistic wood grain than that which we've designed for our OPTIMA™ Deck product line. Available in five convincing representations of traditional hardwoods, your guests will be hard-pressed to guess whether your deck is made of wood or manufactured decking.