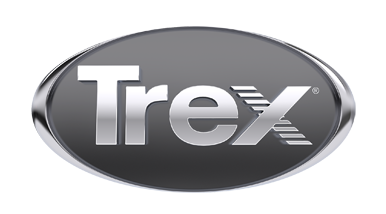 TREX ENHANCE
Two Worry-Free Collections
If you seek the durability of composite and the affordability of wood, opt for Basics. This long-lasting decking requires little upkeep and comes in three traditional colors.
For an authentic wood-grain appearance, choose Trex Enhance® Naturals. Naturals high-performance collection includes five multi-tonal colors inspired by nature.
Trex Enhance® Basics and Trex Enhance® Naturals both offer fade and stain protection, as well as enhanced mold and mildew resistance, to make maintenance simple. And because the boards are scalloped, they're as lightweight as lumber—without the extra work.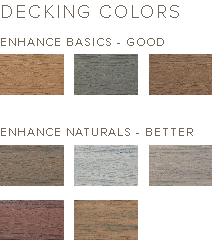 Compatible With All Trex Railing
No outdoor living space is complete without railing that perfectly captures its surroundings. Above all, Trex Enhance decks mix and match with all of our Trex railing lines, allowing you to create a completely custom look.
A perfect finish with Trex Hideaway® Hidden Fasteners
The innovative Trex Hideaway Hidden Fasteners are an option with grooved-edge boards for perfectly consistent spacing and no visible screws on top.
Earth Friendly
We don't harvest rainforests to make Trex. In fact, we've never cut down a single tree. Again, like all Trex decking—is made of recycled materials, from reclaimed wood and sawdust to plastic packaging.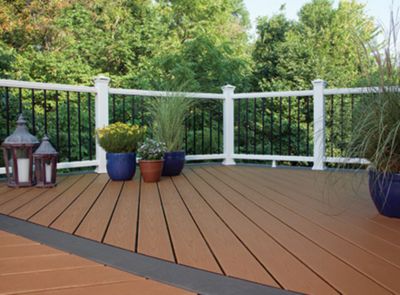 High Performance
High-performance decking is specifically fade, stain, mold, and mildew resistant
Cleans especially easy with just soap and water or pressure washer
Soft, splinter-free finish, in addition, is comfortable underfoot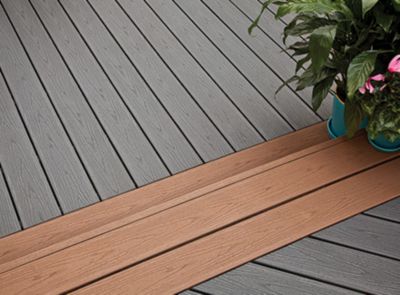 Perennial Beauty
Versatile colors feature a refined wood grain that adds surprising depth and luxury to any backyard
Pairs beautifully with all Trex railing lines- try either a traditional look or a completely unique mix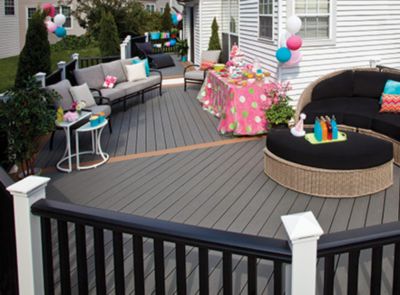 Trex Through and Through
95% recycled plastic, wood and sawdust keeps it green
Backed by our 25-Year Limited Residential Fade & Stain Warranty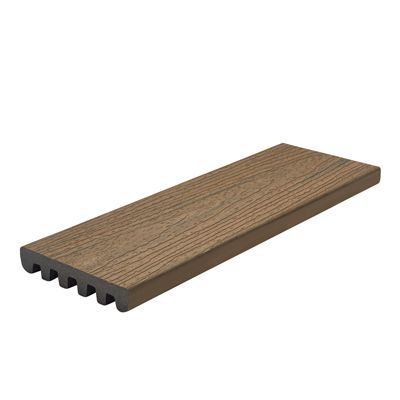 1" Square Edge Board
Actual Dimensions
1 in x 5.5 in x 12 ft (24 mm x 140 mm x 365 cm)
1 in x 5.5 in x 16 ft (24 mm x 140 mm x 487 cm)
1 in x 5.5 in x 20 ft (24 mm x 140 mm x 609 cm)
Our square edge boards install traditionally like wood–with deck screws.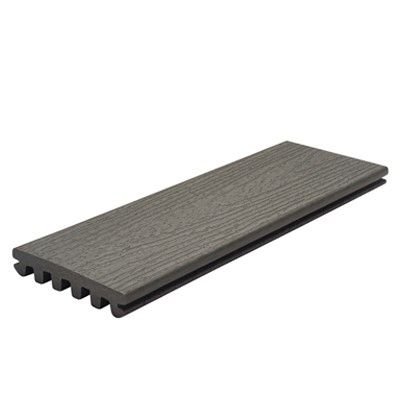 1" Grooved Edge Board
Actual Dimensions
1 in x 5.5 in x 12 ft (24 mm x 140 mm x 365 mm)
1 in x 5.5 in x 16 ft (24 mm x 140 mm x 487 mm)
1 in x 5.5 in x 20 ft (24 mm x 140 mm x 609 cm)
Our grooved edge boards install with our Hidden Fastening System beneath the deck surface, leaving a tidy finish free of screw holes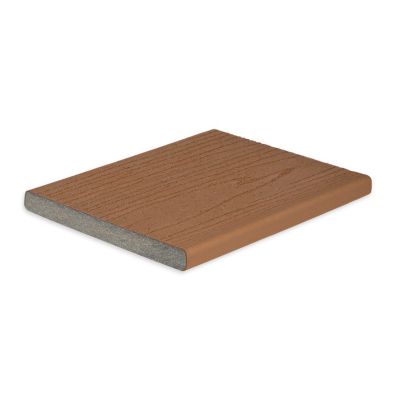 1" x 8" x 12' Fascia
Actual Dimensions
.56 in x 7.25 in x 12 ft (14 mm x 184 mm x 365 cm)
Available in Beach Dune, Clam Shell and Saddle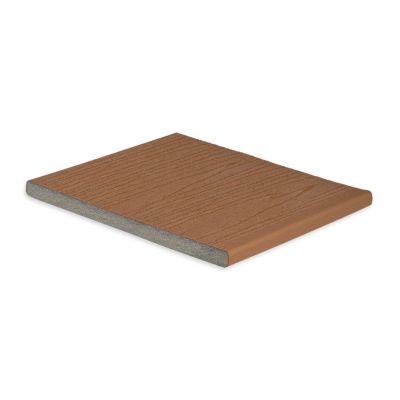 1" x 12" x 12' Fascia
Actual Dimensions
.56 in x 11.375 in x 12 ft (14 mm x 288 mm x 365 cm)
Also, available in Beach Dune, Clam Shell and Saddle