RailEasy™ - Patented Simplicity with Many Options
RailEasy™ Cable Railing System is based on our patented cable rail fittings. This collection of innovative components can be utilized to install cable railing in almost any situation. Stairs, angles and long runs are made easy with RailEasy™. You can handle any cable railing job with this DIY friendly system. Enjoy years of low maintenance and unobstructed views, indoor or outdoor.

RAILEASY™ FEATURES & BENEFITS
Easy surface mount system for predictable install
316L stainless steel & factory electropolished
Patented technology with multiple uses
45 degree swivel action self adjusts for stairs & angles
Cut in field = easy install
A condensed low profile for a clean look
Use with all wood, composite & vinyl
Standard insulators for aluminum post
Redundant fastening ensures less post stress & no pullout
ALL CABLE ASSEMBLIES REQUIRE A TENSIONING DEVICE AT ONE END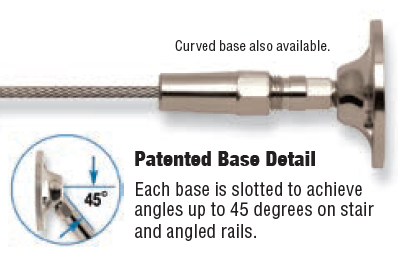 RailEasy™ System Utilizes A Patented Fitting That Does Not Require Special Tools .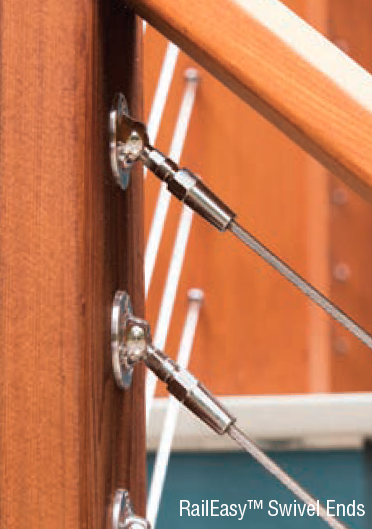 RailEasy™ Components
There are 4 key RailEasy™ parts used to make a cable railing system. With these 4 parts you can easily build a cable railing for most applications.
RailEasy™ Tensioner - 10 & 2 packs available
RailEasy™ Swivel End - 10 & 2 packs available
RailEasy™ Lag Stud - 2 pack for right hand or singles for left hand
RailEasy™ Cable - 25, 100 & 500 ft. rolls
RailEasy™ Tensioner
The RailEasy™ Tensioner is the heart of the RailEasy™ system. The tensioner is a patented device that fastens and tensions the cable between posts. No special tools needed and it is easy to install.

RailEasy™ Swivel End & Lag Stud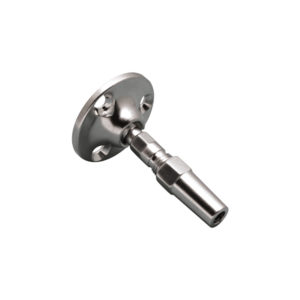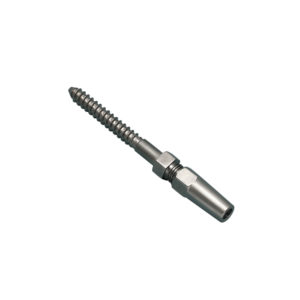 The RailEasy™ Swivel End and Lag Stud are the companion parts to the RailEasy™ Tensioner. They are also patented devices that fasten the cable opposite the tensioner
RailEasy™ Cable Sleeve & Stud Assembly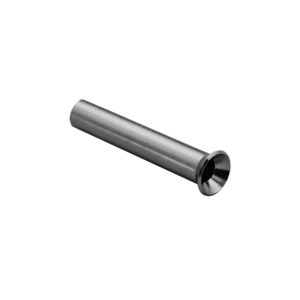 The RailEasy™ Cable Sleeve is used to reinforce cables passing through holes on corners and stairs.  It can also add a decorative element to all mid posts.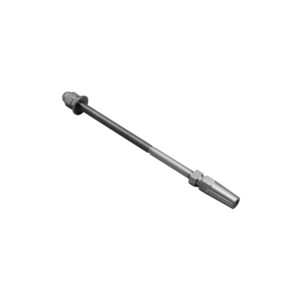 The RailEasy™ Stud Assembly is a specialty component that can be used in a lot of utility situations.
Using RailEasy™ Cable Components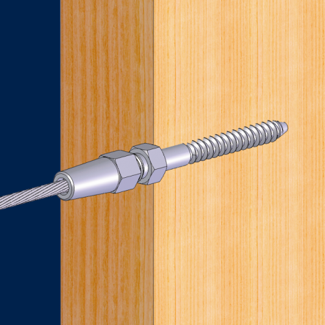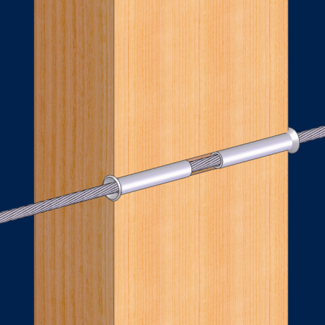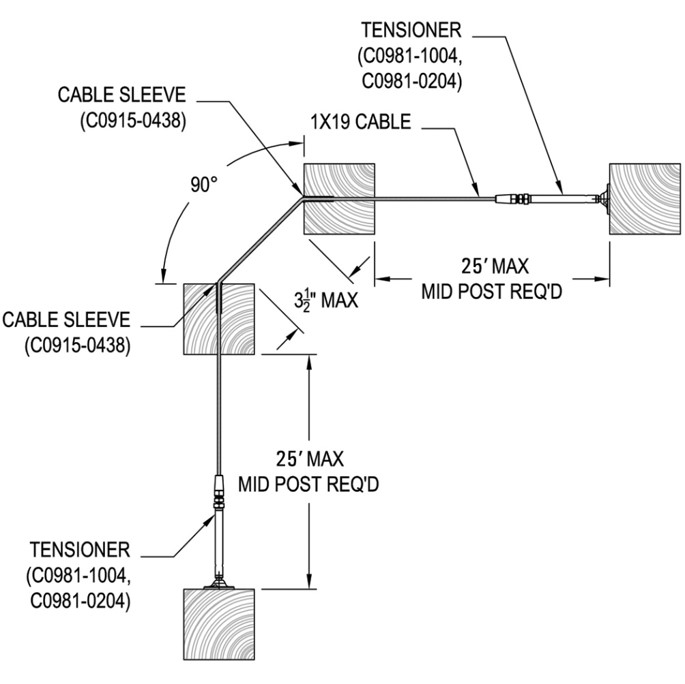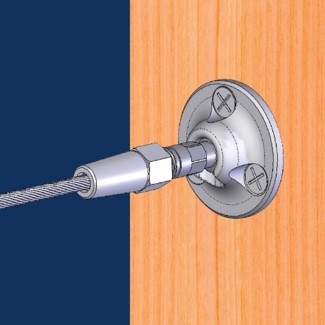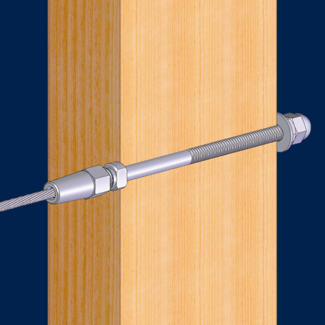 RailEasy™ Components
BILT is a revolutionary way of providing assembly instructions through a 3D and interactive format. The voice guide gives step by step instruction on the RailEasy™ components, how to plan and calculate and how to measure and install a RailEasy™ Cable Railing System. BILT gives time estimates, a list of tools needed and the number of steps. Visit your app store to download the BILT app for free. This app can be used on Apple and Android devices.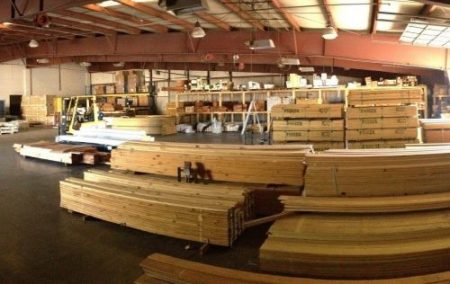 DECKSTORE is the premier destination for all your decking material needs. We carry composite decking from the top manufacturers, such as Trex, Fiberon, Timbertek, and a host of other composite manufacturers. We also carry pressure-treated lumber, cedar, ipe, and other tropical hardwood decking products. At the DECKSTORE, our knowledgeable sales team will assist you in choosing the best products within your budget. We are located in Piedmont, SC, and offer a delivery service anywhere in upstate South Carolina!