Feeney Cable Deck Railing Makes it Easy. Thin, stainless steel cable offers safety with a wide-open view with the innovative touch of Feeney Cable Railing kits. Able to work with wood posts, composite-sleeved deck posts, aluminum deck railing system and more; these convenient CableRail kits keep cable railing installation simple and straightforward.
Quick how to and items needed
Building a Strong Railing Frame
Here are some tips for designing a strong railing frame that uses cables efficiently. Roll your mouse over a section to see details.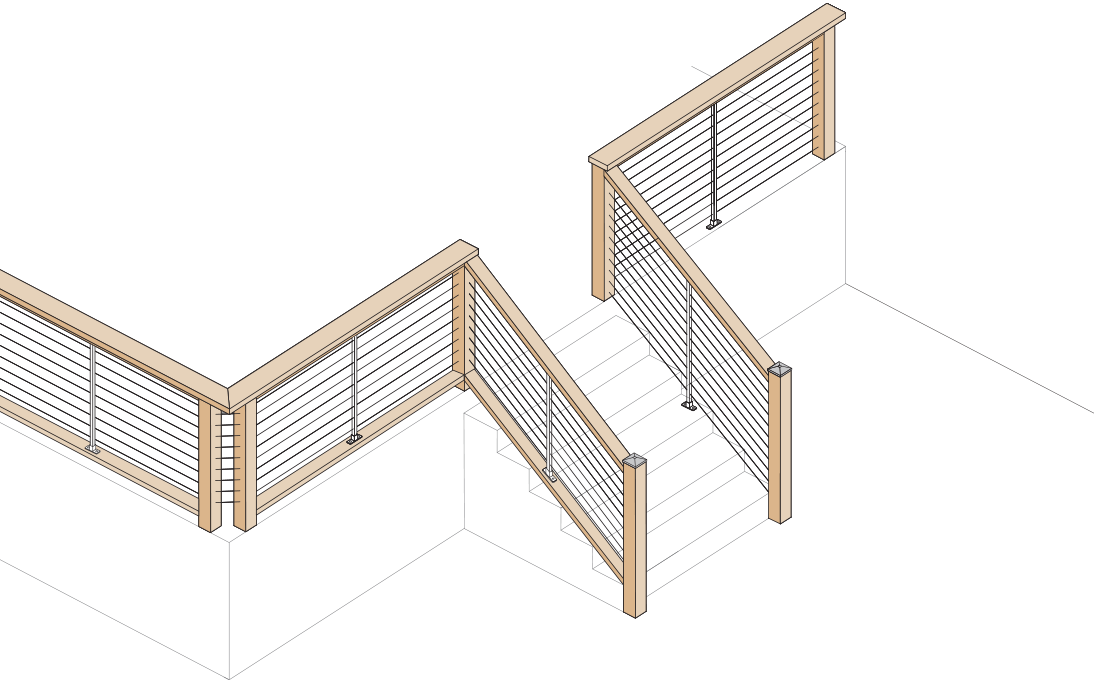 Top Rail: Always include a strong, rigid top rail that is securely fastened to all posts. Minimum recommended size is 2" x 6" wood. Minimum railing height is 42" or as per code.
Double corner posts: If possible use double corner posts to allow cable to run continuously around corners without stopping (see single post option below). Securely bolt or fasten posts to deck joists, and use minimum 4" x 4" wood
Single corner posts (recommended for composite-sleeved wood posts): an alternative to double corner posts and typically require the cables to terminate at the corner.
Cable spacing should be no more than 3" apart. Typical railings have 9-13 rows of cable depending on railing height and opening.
Bottom rails: Recommend using 2" x 4" size wood pieces spaced no more than 4" (or as per code) above the deck surface.
Stair corners can have either single or double posts.
Slender intermediate pickets may be used instead of bulkier intermediate posts to achieve a more open railing design while maintaining proper cable spacing.
If possible, set end posts 3 to 3-3/4" away from walls to allow easy access for attaching and tensioning cable fittings.
End and corner posts carry most of the cable tension load (typically 200-300 lbs on each cable), so always use posts that meet or exceed the minimum recommended sizes. Space posts and pickets no more than 3' apart to minimize cable deflection.
Feeney CableRail Kits For Aluminum Posts
Feeney CableRail Kits For Wood Posts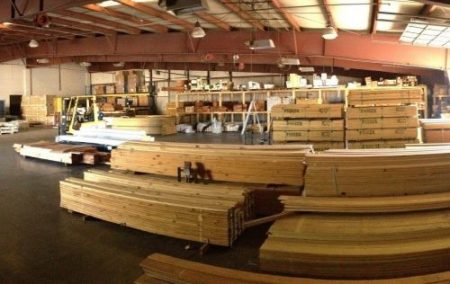 DECKSTORE is the premier destination for all your decking material needs. We carry composite decking from the top manufacturers, such as Trex, Fiberon, Timbertek, and a host of other composite manufacturers. We also carry pressure-treated lumber, ipe, and other tropical hardwood decking products. At the DECKSTORE, our knowledgeable sales team will assist you in choosing the best products within your budget. We are located in Piedmont, SC, and offer a delivery service anywhere in upstate South Carolina!